Car rental
CAR FOR RENT TOUR CENTRAL VIETNAM IN DA NANG
Price:
Contact
Driver's price:
Contact
CAR RENTAL V.I.P
CAR FOR RENT TOUR CENTRAL VIETNAM IN DA NANG
- Company : Kia,Toyota
- Year model : 2017
- Seats : 5-9
- Colors : White, Black, Red
- Type of rent : All in one
Price: Contact
Driver's price: Contact
You will not hesitate to travel. Come to us - a unit specializing in providing the line of new cars for rent from 4 to 45 seats are designed luxury, sophistication, full facilities only at SA TOURIST SCHOOL
With a variety of vehicles to choose from: Each car has its own advantages
+ Car Vios- Kia Rondo 2015-2017 designed modernly will surely make you satisfied.  
+ With 7 seats: many famous brands such as Innova, Fortuner- car travel new life.
Innova with 2.0L petrol engine (134 hp / 6200 rpm, 182 Nm / 3,800 rpm). 5 speed automatic transmission / 4 speed automatic. Overall size: 4.589 × 1.775 × 1.750 (mm). Axle length: 2.750 (mm). Ground clearance: 176 (mm).
7-seat touring car in Da Nang  
Equally prominent, the Fortuner is also airy, spacious 2.4L engine with a 6-speed manual gearbox. Average fuel consumption is 7.1 liters / 100 km. Spot height is 219 mm.
+ The Ford Transit 16-se Ford 2014-2017 is equipped with modern systems, large disc brakes in all four wheels to ensure safety when operating at high speed. In particular, the ability to climb good but extremely quiet.
16-seat touring car in Danang - rental car service from 4 to 45 seats  
+ 30 seat car with Huyndai Country and Isuzu Samco is the best choice.
With good mobility, Huyndai County is pretty much the choice when renting a 30 seat car. Furniture is high-end, wood dash with extremely sharp lines. Powerful engine with 140 PS, maximum torque at 372Nm. The power consumption is quite low 140L / 100km.
In addition, Isuzu Samco is no less, spacious interior is completely renovated to create a classy luxury. Samco uses the next-generation ISUZU Comonrail diesel engine to increase capacity by 26% and reduce fuel consumption by 15%. Seat cushion cushions are imported from Thailand, have good price for luggage.
The 45-seat Univer Thaco is fully equipped for the 2015- 2017 season. The Vip line carries a 2.5Q camcorder conference and golf; 4G, Mer E 250 AMG Dcar Limousine.

rental cars from 4 to 45 seats
 
And many other cars for you to choose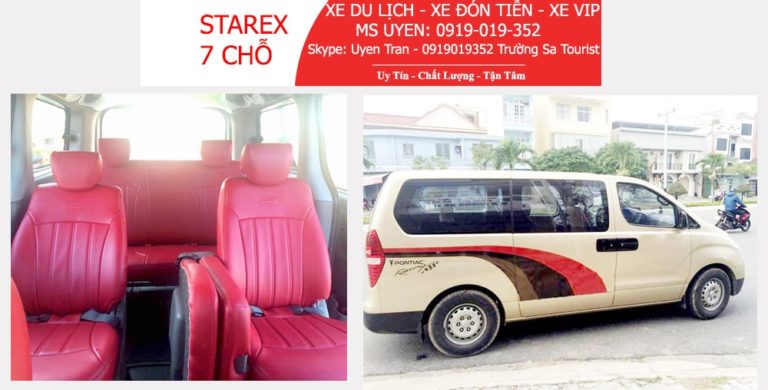 Contact us - car rental from 4 to 45 seats - VIP car Da Nang. To choose a car rental service prestige - quality - cheap.
HOTLINE: 0919019352 - 0905251364
Email: info@xevipdanang.com